Angel Street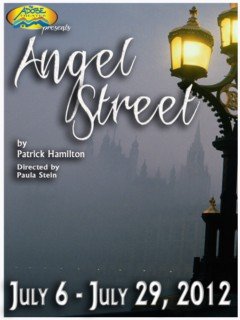 by Linda Triegel
Albuquerque's little theaters frequently perform mystery plays, which is a boon to us fans. Croak & Dagger chapter members have had the opportunity to see several in recent years—at a reduced ticket price for members—including Agatha Christie's Witness for the Prosecution earlier this year at ALT, and just this July a production of Angel Street at the Adobe.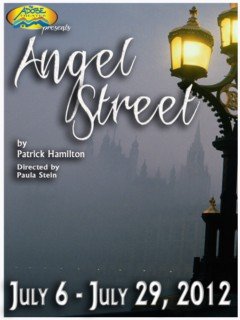 Angel Street by Patrick Hamilton
directed by Paula Stein
at the Adobe Theater
Angel Street, despite its Victorian setting, was written in the 1930s by British playwright Patrick Hamilton and is probably best known in its 1944 movie incarnation titled Gaslight starring Ingrid Bergman and Charles Boyer. This reviewer saw the play years ago in Florida, but it's not often produced.
That's too bad, because the story is suspenseful, with several unexpected twists and turns, even though you know who the villain is from the outset. The problem is that the characters are hard to empathize with unless exceptional actors can transform them into real people. The Adobe gets one—well, maybe one and a half—out of three right.
Jack and Bella Manningham live in a mansion in London, the top floor of which has been closed off. Nonetheless, Bella often hears strange noises from above, and the gas lights flicker ominously after the noises cease. Her mother died insane, so it doesn't take much for Bella to doubt her own sanity, and when Jack berates her for her forgetfulness and withdraws his affection as quickly as he bestows it, she doesn't see that he is manipulating her.
One evening when Jack is out, Bella is visited by former police detective Sergeant Rough, who tells of a violent crime that took place in this very house 15 years earlier. By the end of his tale, Bella realizes that she may not have been imagining things at all. She finds a sympathetic ally in Rough, who is determined to solve the crime that baffled him so many years ago. Rough not only sets the plot in motion, but as played by Stephen Zamora, he is the most believable and enjoyable character in the play (he also has the most natural English accent).
Dale Simpkins as Jack, alas, may just be too young to be a convincing Jack, but speaking to Bella at pretty much the same angry pitch the whole time doesn't help, when a little French charm a la Charles Boyer would have gone a long way toward showing his second face, of solicitous concern. Teresa Kizziah as Bella does the best she can with the part, which isn't written with any spunk or even common sense. This is the kind of heroine that helped put the gothic romance out of business.
Two servants round out the principal cast. Madelon Brown is solid as a housekeeper loyal to Bella, and Anne Sheridan is a saucy maid (memorably played by a young Angela Lansbury in the movie), who wouldn't mind stealing Jack from his wife and helps him in his machinations.
The set, designed by Bob Byers, is excellent, particularly given the small stage, full of Victorian knickknacks and even including a staircase, tea table, and fainting couch, all put to good use—especially, of course, the gas lights. The costumes are also superior; I was especially taken with Bella's skirt, which fell in graceful folds behind her whenever she moved.
If you need only one good reason to join Croak & Dagger, it might be the opportunity to come to our theater parties!